Diwali is here! Well, it is almost here; I enjoy the days leading unto Diwali as much as the days of the festival themselves. We gather in the kitchen, the entire family gets involved and whip up some sweets that often get consumed before d-day(s). I think that indulgent treats, especially when they are home-made with love, should be a part of everyone's diet. Absolutely no guilt involved. Here are some treats that we have been making.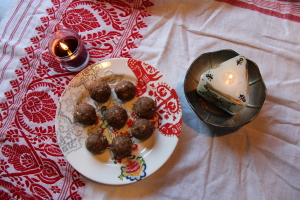 Date-Almond-Walnut-Laddoo
Ingredients:
1 cup of almonds
1 cup of walnuts
12 Mejdool dates
A tablespoon of ghee
Cardomom Powder 1/2 a teaspoon
Saffron: a few strands soaked in a tiny bit of almond milk
Pan roast the almonds and walnuts for a slight crunch. Leave them raw, if you don't desire the crunch in your munch. Grind the nuts into to a coarse powder, so that they resemble breadcrumbs. Pulverize the dates and ghee in a food processor until you have smooth buttery paste. Transfer the nut flours and the date paste into a large dish. Add the cardamom powder and saffron slush. Mix until the ingredients mingle and unify. Taking small balls of the mixture, roll between the palms of your hands to form soft laddoos. So simple, no? Bursting with energy, eat one(or four) to trump over the afternoon slump. Or whenever you feel like it.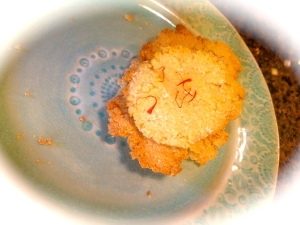 Almond-Coconut Cookies with Saffron Sprinkles
Ingredients:
2 cups of almond flour
1/4th cup of coconut oil
1/4th cup of honey
A splash of vanilla extract.
Cardamom powder
Saffron strands
The first three ingredients are sourced from Costco. Convenient. Mix the first five ingredients until they are combined, cut into circles, stars or whatever you fancy, and bake in the oven at 350 degrees for 8 minutes. I decorated my cookies (before baking) with saffron strands to give it a festive Indian twist. Try making them, they are unbelievably easy and rather tasty. The original recipe is from Ms. Detoxionista, I just gave it that saffrony sprinkle. And skipped the frosting.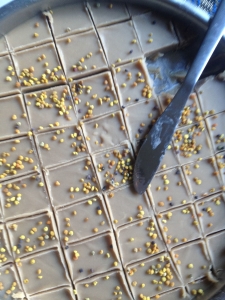 Halvah
Ingredients:
A jar of Tahini (mine was 26 oz)
3 tablespoons of virgin coconut oil
1/2 a cup of maple syrup
A teaspoon of vanilla extract
2 teaspoons of black elderberry syrup
Bee Pollen for rustic decoration and nutrition
Gently melt the coconut oil. Mix it with the maple syrup, black elderberry syrup and vanilla. In a large mixing pot, scoop out all the tahini and add the coconut-maple-elderberry-vanilla liquid. Integrate the ingredients until you have a aromatic slush. Pour it into a stainless steel thali like I did, or into any other container. Wrap it with seran wrap and freeze for 2 hours. Bring the dish out, sprinkle with bee pollen and cut into pieces. Put it back into the freezer and freeze for a few more hours. The original recipe is from the phenomenally talented Susan Jane White. I skipped the nuts since the other two sweets were nut based. And added the blackberry syrup for a dose of color and immune-supporting flavonoids. The sprinkle of bee pollen adds an additional dose of immune support to this treat. Pop one of these into your mouth, and you'll be led, from darkness into light. Instant nirvana guaranteed.
A happy and yummy Diwali from our family to yours! May the festival of lights bring joy, peace and harmony into your life.
Featured Image Credit: Sridhar Chandrashekar