If there is a plant that is medicine and magic in equal measure, it is turmeric. By now, you have probably heard about turmeric's astonishing therapeutic properties. Thousands of research studies validate its healing prowess in calming inflammation, warding off infections, fighting cancer, lifting depression, reducing cholesterol, healing the liver, soothing the digestive system, making skin radiant and much much more. Most studies done on turmeric refer to the common variety of the spice-herb, botanically known as Curcuma longa. However, today I want to shine light on the lesser-known and wilder cousin of common turmeric, also known as wild turmeric, kasturi turmeric or vana-haridra in Sanskrit. The botanical name of this variety of turmeric is Curcuma aromatica, referring to its vibrant, camphoraceous aroma.
Belonging to the family Zingiberaceae or the ginger family, Curcuma aromatica is mainly cultivated in Kerala and West Bengal in India. It is considered an annual plant because the plant grows rapidly from spring to late autumn and the shrubbery dies down in winter. However, the rhizomes of the plant that remain latent produce new flowers and leaves during subsequent seasons.
It was the Retin A of the Ancients
Kasturi turmeric was historically used as a medicinal and aromatic skin healer and complexion enhancer. It was the Retin A of the ancients. Ayurvedic texts record at least 53 different Sanskrit synonyms/names for turmeric, out of which names such as, gandhaplashika (has a lovely fragrance), hridayavilasini (which delights the heart), nishawa (clears darkness and imparts light), varnini (which gives color), varavarnini (which makes you fair), varnadhatri (makes the skin radiant) and yuvati (young girl), probably refer to the skin radiance enhancing properties of kasturi turmeric.
It was (and still is) the go-to remedy for most common cosmetic complaints such as acne, sunspots, hyperpigmentation, dullness of complexion, etc. The herb's strong antioxidant, anti-inflammatory and antibacterial properties make it supreme for healing acne, erasing sunspots, and bringing radiance to the skin. In addition, anecdotal evidence suggests that with long-term use, the herb inhibits facial hair. With its in-built musk like fragrance, the herb has an inherent elegance that makes it well suited for cosmetic purposes.
Scientific research validates what the ancients held true. A 2010 study published in Journal Cell Biology Toxicology reported that extracts of Curcuma aromatica (along with extracts of Alpinia galanga) protected the skin from UVA induced melonogenesis. An overproduction of melanin (skin pigment) due to sun exposure can lead to hyperpigmentation commonly and melanoma (skin cancer) in extreme cases. The researchers concluded that the herbal extracts worked by inhibiting cellular oxidative stress and improving antioxidant defenses to protect the skin.
My Experience with Kasturi Turmeric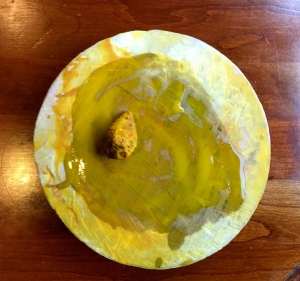 If you are from the southern region of India, there is a good chance that you have been exposed to kasturi turmeric. Growing up, our bathroom shelf at home always held a bottle of the powdered herb mixed with gram flour/garbanzo bean flour and we used the homemade formulation as a face and body scrub. Unlike regular turmeric, kasturi turmeric is relatively non-staining and will not leave you looking yellow and jaundiced after using it.
I had forgotten all about the herb until I experienced a recent bout of stubborn, hormonal acne along my jawline. Intuition guided me to make kasturi turmeric my herbal ally instead of the typical pharmaceuticals that are promoted to treat acne such as salicylic acid or benzoyl peroxide. Just when I was wondering about how to source the herb, a friend (when I was discussing the herb with her) gave me some of the powdered herb along with some rhizomes (that I could grind into a paste) that were grown organically in her father's farm in Kerala!
I am back to my childhood days now, joyfully experiencing the sensory and tactile pleasures of communing with a delightfully colorful, aromatic, magical and somewhat messy herb. The hormonal acne is gone, hope the hyperpigmentation left behind follows it too.
What is left to Say?
In addition to its topical use for enhancing the complexion and for various skin complaints, Ayurveda prescribes the herb for respiratory, circulatory and cardiovascular conditions. Recent research confirms that when Curcuma aromatica is ingested in the form of an extract, it has protective and healing abilities for various infections, inflammation, cancer and diabetes.
If Curcuma longa, the common variety of turmeric, is immensely healing, Curcuma aromatica, its wild cousin, is infinitely magical too. After all, it is the wilder cousin. Characteristically, a powerful, enduring life force is built into the nature of wild things. And coming in contact with a powerful life force, puts us in touch with our own life force, our own power, our own vitality and our own radiance.
What Else is left to Say?
You may have heard about the parable of the restless deer that scours the entire jungle in search of a beautiful aroma that always seems to follow him. The deer searches far and wide to no avail. It is only when he looks within, that he discovers that the musk (kasturi) was all along in his own belly.
I have seen women on a long-term regimen of kasturi turmeric literally glow and glisten. It is probably because they have a strong sense of their inner kasturi, their inner radiance, and outwardly reflect it.
Kasturi turmeric can do that for you also. Find a way to source the wonderful herb and work it into your skin care regimen.
Sources:
Journal of Pharmacognosy and Phytochemistry; Pharmacological activities of wild turmeric (Curcuma aromatica Salisb): a review.
Cell Biology and Toxicology; Modulation of antioxidant defense by Alpinia galanga and Curcuma aromatica extracts correlates with their inhibition of UVA-induced melanogenesis.
Herbal Medicine: Biomolecular and Clinical Aspects. 2nd edition; Turmeric, The Golden Spice