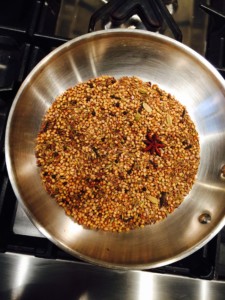 There is something very special about cooking with a powdered spice blend that has been whipped up with your own hands. Pure, unadulterated, organic spices gently roasted until fragrant and then powdered in a coffee grinder are rocking my world these days. Over the holidays, I created a spice blend that has been adding flavor and goodness to several homemade vegetable, bean and lentil dishes.
Garam Masala, a staple in Indian cooking, literally means warm spice and is comprised of several spices. Rather than adding spiciness like chili peppers do, this blend brings deep flavorful warmth to dishes. Added at the end of cooking a dish, I think of Garam Masala as a blessing, the final flourish that ties up loose ends and brings the dish together for a pleasing, wholesome completion. While good Garam Masala is widely available in stores, it has been my heartfelt desire to DIY and nail this blend. Given its grand role in Indian cooking, making the blend was immensely satisfying for me.
Most store-bought Garam Masala blends have ample amounts of cinnamon and nutmeg. You may want include them if you love the spices, but I have eliminated them in this particular version. Eliminating the cinnamon and nutmeg makes this blend suitable for a wider variety of dishes.
To make my version of Garam Masala, you will need.
Coriander Seeds: 3 Tablespoons
Cumin Seeds: 2 tablespoons
Fenugreek Seeds: 2 Teaspoons
Fennel Seeds: 1 Tablespoon
Black Pepper: 1 Tablespoon
Cloves: 1 Teaspoon
Cardamom pods: 1 Teaspoon
Star Anise: 1
Gently roast the spices in a heavy bottomed pan until fragrant and grind into a coarse powder in a coffee grinder. Store in an airtight container.
In addition to being delightfully flavorful, the spices in this blend are massively healing. Coriander seeds decrease inflammation and prevent food poisoning. Cumin seeds promote the secretion of pancreatic enzymes and improve immune function. With their maple syrup like flavor fenugreek seeds not only add taste and aroma, but they also contain an amino acid called 4-hydroxy- isoleucine that improves insulin sensitivity. Fennel seeds promote digestion and contain several essential oil components that have antioxidant and carminative properties. Black pepper stimulates the production of hydrochloric acid and improves digestion. Cloves, according to traditional Chinese medicine, "warm the middle burner". Ayurveda deems them supreme for internal warming and therefore, metabolism and digestion. Cardamom contains high amounts of volatile oils that are responsible for its pleasant taste and antioxidant properties. Traditional healers consider it warming to the body and stimulating to the mind. Star Anise is a beautiful spice. Rich in shikimik acid (Tamiflu contains this ingredient), star anise keeps flu and other infections at bay.
In Greek mythology cardamom is associated with a feeling of 'grateful warmth'. That pretty much describes the feeling behind the creation of this spice blend. I wish you grateful, gracious graceful warmth in the New Year. May the gentle warmth of the spice blend nourish you for all of 2017.
Sources:
Axe: Why you need more Coriander in your Life
The World's Healthiest Foods: Cumin Seeds
Medical Medium: Fenugreek Tea
Nutrition and You: The Health Benefits of Fennel Seeds
Acupuncture Today: Cloves
Maharishi Ayurveda: Clove
Herbal Greece: Cardamom Mythology
Superhuman Coach: Star Anise